Regional Jealousies Cause Conflict
Voters in South Dakota rejected a plan to develop seven small dams on the Missouri River. The plan was launched by Doane Robinson, state historian, as a means to develop irrigation, hydropower and navigation in the state. Regional jealousies cast a negative pall over the plan, as those in communities wanting a dam opposed other communities getting a dam.
Mr. Robinson had promoted dams on the river in South Dakota since at least 1910. He must be credited with starting serious discussions regarding the benefits and drawbacks about building dams on the Missouri River in South Dakota.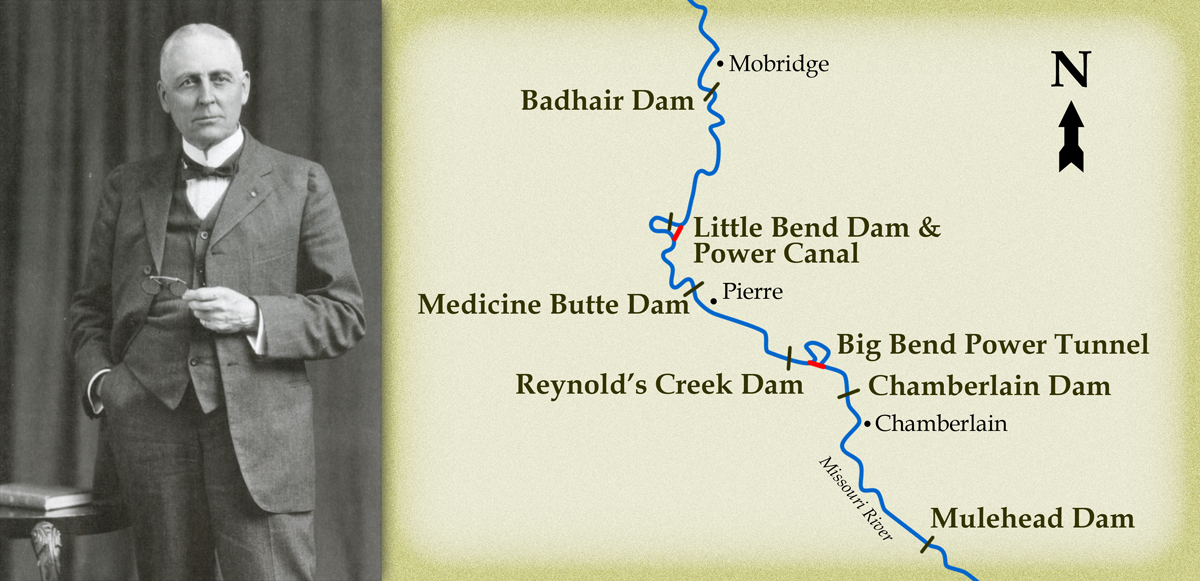 About Doane Robinson
Doane Robinson, a consummate public servant, led the South Dakota Historical Society from 1901 to 1926. Robinson proposed a series of dams across the Missouri River in South Dakota primarily as a means to generate and supply electricity to state residents, farms and businesses. Robinson's plan was to build seven low head dams, each one about forty feet high. His plan was defeated in a statewide election, 106,409 to 55,563. The map shows the dam locations proposed by Robinson. A former Aberdeen resident, Robinson is best known for conceiving and promoting the idea to carve a grand sculpture in the Black Hills. That dream eventually became Mount Rushmore.