Senator George McGovern
Senator George McGovern became the most visible and vigorous champion for the Oahe irrigation project among elected officials in Washington DC. He and his staff provided political advice and help to Oahe supporters in South Dakota, and assisted the Bureau of Reclamation proceed through authorization and funding phases of the project. It was Senator McGovern who recommended formation of the group, Friends of Oahe, as a means to counter the political activities of United Family Farmers. When United Family Farmers won control of the Oahe sub-district McGovern suggested the state of South Dakota strip the Oahe board of its authority. McGovern traced his support for the Oahe irrigation project to the suffering he witnessed during the dust bowl era.
Witnessing the Dirty Thirties influenced George McGovern
Senator McGovern's views on the environment
Sentors McGovern and Abourezk oppose each other over the Carter "Hit List"
After UFF controlled the sub-district and President Carter released water projects "Hit List"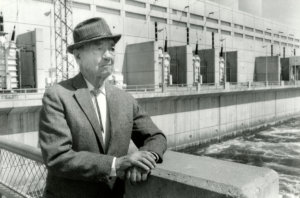 Robert Hipple
Few individuals contributed more to efforts to develop and control the Missouri River than Robert Hipple. A Pierre, SD newspaperman, Hipple cultivated political relationships with countless Senators, Congressmen and water development officials on all levels. As a journalist he coined the expression, "Dirty Thirties", forever putting a face on a difficult decade. As an activist Hipple introduced Lew Pick to Glenn Sloan, an introduction that resulted in a massive, federal plan that forever changed the Missouri River. Hipple also played a key role in convincing the U.S. Congress to fund Oahe dam, and he was a founder of and charter member who served nearly 20 years on the Oahe Sub-district board of directors. Hipple's determined support of the Oahe irrigation project was deeply influenced by his memories of land gone dry and people on relief rolls during the dust bowl. Mr. Hipple died in 2000 at the age of 100.
Hipple's advocacy for irrigation started in the 1930's
Hipple introduced Glenn Sloan to Lew Pick
Robert Hipple and Oahe Dam
Why Oahe Dam was built so large
Tom Daschle
An Aberdeen, South Dakota native, Tom Daschle began his service in politics as an aide to Senator James Abourezk before winning election to Congress as a Democrat representing South Dakota's first district in 1978. Daschle proved to be a resourceful, skilled and popular politician, and he played a central role in the complex political negotiations and trade that resulted in discontinuing development of the Oahe irrigation project and the authorization of the WEB water pipeline system. His most important contribution was securing support in the U.S House in 1981-1982 for WEB funding. Daschle was elected to the U.S. Senate in 1987, and rose to become that body's Minority and Majority leader. He narrowly lost his bid for a fourth term in the Senate in 2004.
Who should decide Oahe?
Growth of opposition
President Carter's impact on Oahe
Halting Oahe meant what?
Evolution of WEB
Dr. George Piper
Dr. George Piper founded United Family Farmers. His in-depth research, effective information-sharing, and grassroots organizing were responsible for transforming United Family Farmers from a neighborhood group to a formidable Oahe opponent. Piper earned a PhD in Zoology from the University of Missouri in 1970, taught college for one year, and returned to his family farm in Beadle County. Alarmed when he learned that a feature of the Oahe project –the Lake Byron reservoir- would flood 1,000 acres of his family's farm, Piper set out to learn more about the project. That began a ten-year odyssey of political activism culminating with stopping the Oahe project. In the annals of successful grassroots movements, George Piper ranks as a rare and unusual leader. He was guided by a quiet humility, and the organization he founded, defined and helped lead scored as impressive and influential a victory as has ever been won in the history of grassroots political campaigns in this country.
Piper's earliest reaction to Oahe plans and documents
Forming United Family Farmers
United Family Farmers' early strategy
Growing United Family Farmers
Piper's final thoughts on the Oahe fight
William Janklow
One of South Dakota's most popular and mercurial politicians, William Janklow won four terms as governor (1978 – 1986 and 1996 – 2004), and was elected to the U.S. Congress in 2003. As governor and as a private sector attorney William Janklow fought tirelessly to protect and enhance South Dakota's opportunities to economically benefit from Missouri River water, including advocating for the Oahe irrigation project. As governor he helped convince officials in the President Ronald Reagan administration to support the political trade that resulted in the formal demise of the Oahe project in exchange for federal support for a variety of other water projects. His frustrations and disagreements with Oahe opponents and the Oahe sub-district compelled him to dismantle the conservancy district system in South Dakota during his second term as governor.
Oahe background and as compensation for Missouri River reservoir impacts
Rising environmental awareness
Oahe's benefits
President Carter's Hit List
The Oahe settlement and WEB
Why Janklow supported WEB
Ken Holum
Ken Holum grew up on a Brown County farm and became a national leader in matters related to rural development, particularly telephone, electrification, and water and coal/energy development. He was a fervent supporter of the Oahe irrigation project. Holum's farm near the James River would have benefited from the project, but not until the project's second phase was developed. His enthusiasm for irrigation in eastern South Dakota was forged by vivid memories of his own family and other farm families suffering extraordinary hardship during droughts of the 1930s. Holum was a two-term state legislator and twice ran unsuccessfully for the U.S. Senate. His experience in rural development issues and as leader in rural cooperatives was rewarded with an appointment by President John Kennedy to serve as Assistant Secretary of Interior, with responsibility over the Bureau of Reclamation, the agency charged with building the Oahe irrigation project. Oahe supporters, in essence, had a homegrown ally occupying a most advantageous position (from 1961 to 1969) in federal government. Holum aided the Oahe project in numerous and important ways through his career, and later admitted that the project's demise rated as one of the most disappointing aspects of what otherwise was rewarding public service.
Holum's background
Missouri River experiences
Holum at the Department of Interior
Missouri River dams
Federal water development obligations to South Dakota
On Oahe's broad support
The tragedy of Oahe
James Abourezk
Born in Wood, South Dakota, James Abourezk earned an engineering degree from South Dakota School of Mines and Technology and a law degree from the University of South Dakota. In 1970, Abourezk was elected to the U.S. Congress representing South Dakota's second district. Two years later the Democrat won election to the U.S. Senate. Senator Abourezk supported the Oahe project until he met several times with United Family Farmers' representatives. His transition regarding Oahe, from supporter to skeptic to opponent, caused considerable anger within South Dakota's political and business establishment, and his position presented South Dakota as being divided over Oahe. Senator Abourezk authored legislation suspending funding for the Oahe project, and he also introduced a measure to de-authorize Oahe. These issues cast him in direct opposition to his close friend Senator George McGovern, and Abourezk later described their debate about Oahe's fate on the Senate floor as the most difficult thing he ever did as a politician. Abourezk did not seek re-election to the Senate.
Abourezk's evolving Oahe position
Disagreeing with Senator George McGovern
Curt Hohn
United Family Farmer's first executive director was Curt Hohn, a Northern State College graduate and former aide to Senator George McGovern. Hohn, a Plankinton, SD native, left Senator McGovern's staff because he disagreed with the Senator's support for the Oahe project. Despite his young age, Hohn displayed impressive political skills, leading United Family Farmer's grassroots political campaigns to win control of the Oahe sub-district board of directors in 1976. In early 1977, Hohn left United Family Farmers to begin work as Manager of the Oahe Sub-district. In that position, he worked closely with John Sieh to create and coordinate that agency's campaign to stop construction of the Oahe irrigation project. In 1982, he became manager of the new WEB water pipeline project, and he led that project through its funding and construction phases and into early operations. His negotiations and discussions with the U.S. Bureau of Reclamation helped that agency define its new role as a federal funder for domestic water pipeline systems in the West. After living and working in Oregon, he returned to Aberdeen and was serving a second stint as WEB's manager when he died from cancer in 2010. Hohn unsuccessfully ran as the Democratic candidate for U.S. Congress in 2002.
Hohn on McGovern
Hohn's early education about Oahe
Hohn disagrees with McGovern
Hohn's early work for UFF
Medicine Knoll Rally
UFF and 1976 sub-district elections
Government rushes to construction
Establishment countering UFF
Oahe and President Carter
Bureau's land acquisition practices
Educating the Oahe board
Promoters try to undermine Oahe board
The WEB for Oahe trade
Guy Martin
End of Oahe
Oahe lessons
WEB's political significance
Dr. Brent Blackwelder
Dr. Brent Blackwelder has served and helped lead the American environmental movement for more than forty years. In 2013 he retired as the president of the global organization Friends of the Earth. He had served in that important position since 1994. Blackwelder, a graduate of Duke, Yale and the University of Maryland, testified before the U.S. Congress on environmental issues more than 100 times, and was a founder of American Rivers, a national, river-conservation organization. Blackwelder helped expand the National Wild and Scenic Rivers System from eight rivers in 1973 to over 250 today. He played a key role in reforming national water policies, and supported the efforts of United Family Farmers from his offices in Washington, DC. He came to South Dakota in 1973, to learn about the Oahe project. Few people can equal Dr. Blackwelder's understanding of the history and importance of the American environmental movement. His knowledge of water projects is especially acute.
Oahe's national political significance
Criticism of federal water development
View of Pick-Sloan and compensation to South Dakota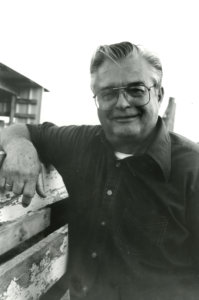 John Sieh
As a young man, John Sieh left his parent's farm in Brown County, South Dakota to work as a farm and union organizer. When he returned he continued his interest in rural politics, and he was guided by principles of grassroots activism and prairie populism. Sieh's farm near the James River was in the area proposed for Oahe's second stage or irrigation. George Piper convinced Sieh that Oahe was problematic, and Sieh became a leader among project opponents. From 1977 to 1982, while serving as Chairman of the Oahe Sub-district, Sieh aggressively opposed and helped stop the Oahe irrigation project. He was the ideal person to lead the sub-district away from its previous position of support for Oahe. That effort required resistance to pressures brought by the political, media and business establishment. Sieh also led the sub-district's effort to develop rural pipeline water systems, and he was one of several key contributors to the WEB water project.
Early interest in water issues and Oahe
Oahe's political support
Oahe's Master Contract flaws
Changing of the guard
Why proposed irrigation farmers opposed Oahe
Sub-district hearings and the "people" take control
The media and Oahe
UFF: A people's movement
President Carter's water project hit list
Trading Oahe for WEB
Legacy of drinking water projects